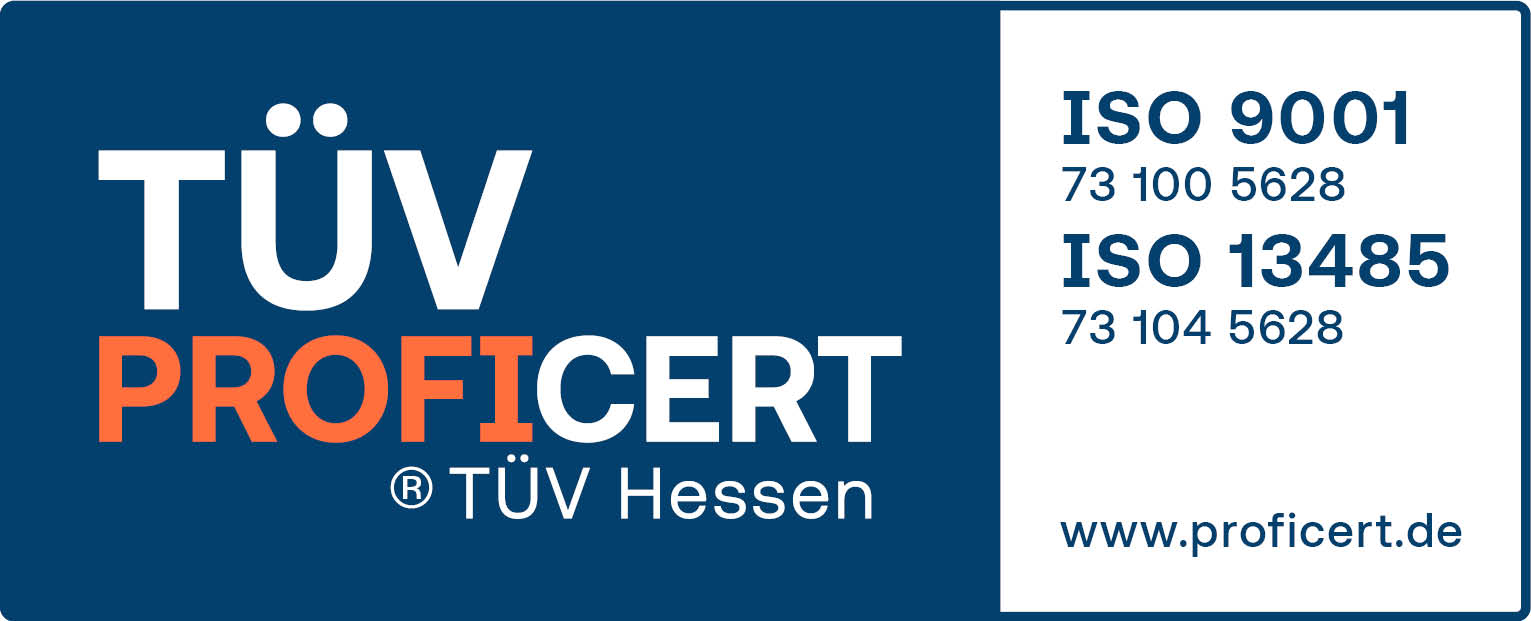 Zertifikat DIN-EN-ISO-13485_2016 (EN)
Zertifikat DIN-EN-ISO-13485_2016 (EN)
Quality management & test processes: proven quality
High quality is based on numerous factors
"Made in Germany" is a traditional seal of quality that guarantees the high quality of a product. The components and assemblies of in-Tec Bensheim are also manufactured in discerning workmanship in Germany. The company has its headquarters in the Bergstraße region of Hesse, which is located between Frankfurt and Heidelberg. Here components and
cables are assembled
, or electro-pneumatic hose systems, in particular for the medical technology industry, are manufactured.
Certified according to DIN EN ISO 9001: 2015 and DIN EN ISO 13485: 2016
The seal of quality is supported by standardized awards. in-Tec Bensheim has been certified by TÜV Hessen in accordance with DIN EN ISO 9001:2015 and DIN EN ISO 13485:2016. EN ISO 9001 confirms that our company has an effective, customer and process-oriented quality management system in place. We ensure transparency during all stages of production and guarantee efficient cooperation between all parties involved. For the daily production work this means that, among other things, the required materials are at your disposal within a short timeframe, and the areas of responsibility and
contact persons
are clearly defined.
Since the company's founding, components and structural parts for the field of dental and medical technology have been a focal point of our manufacturing. Whilst the certification in accordance with DIN EN ISO 9001:2015 ensues on a voluntary basis, the prerequisite for manufacturing medical products is a certification in accordance with EN ISO 13485:2016. The guideline regulates quality assurance demands and thus guarantees a consistent high standard of manufacturing with particularly high demands. As a contract manufacturer for the medical engineering industry, in-Tec Bensheim – as an accredited
HIBC Solution Provider
- is also capable of clearly marking the medical engineering products, in accordance with the international standard.
More quality assurance elements
Incoming goods inspection "Standard"
WE inspection according to customer specifications
Batch-managed stocks
100% EOL tests
Measure, verify and document
Supplied materials and components as well as products that have been manufactured in our plant are inspected in the testing laboratory so as to confirm their quality. Should this be required, entire lots can also be inspected in order to verify whether the prescribed tolerances were complied with throughout. With measuring and testing equipment, which we also develop together with our customers for special requirements, in-Tec Bensheim achieves consistent quality in its products.


Equally, we develop individual testing plans for assemblies which comprise all relevant quality requirements and, simultaneously, reduce the testing effort required. At the end of contract manufacturing orders, complete test documentation is provided.


With the help of customer audits, we inspect whether the production processes at in-Tec Bensheim have met the client's expectations. Customers and partners regularly ratify our quality standards - positive feedback that encourages us to continue improving our services.
Qualified employees ensure high-quality manufacturing
The demands set to quality at in-Tec Bensheim are high. We also know that the skills and know–how of our employees are a fundamental foundation of our company. By means of further education measures and intensive schooling, they acquire the qualifications that are imperative for high-quality contract manufacturing.